Detektivspiele für die ganze Familie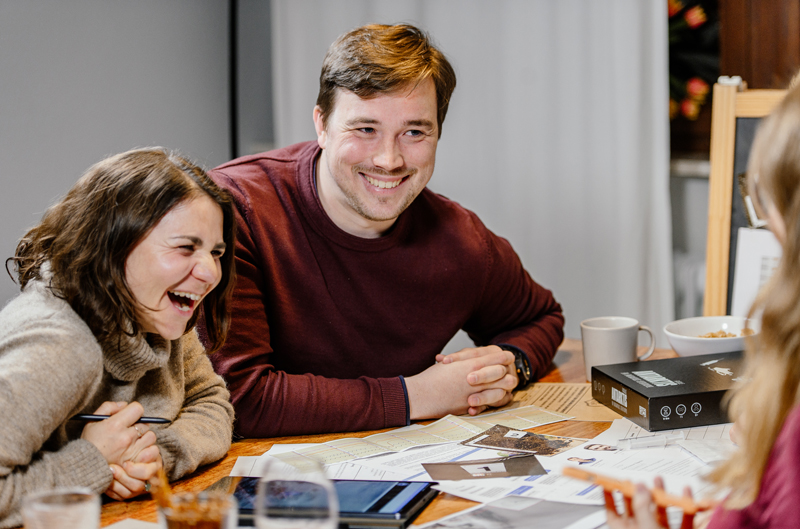 Detektivspiele für die ganze Familie
Wusstest du schon, dass es in Norwegen eine Tradition gibt, bei der man sich zu Ostern Kriminalgeschichten erzählt? Diese heißt Påskekrim und in der Osterwoche lesen die Norweger Krimis, sehen Krimis und Fernsehsendungen. Die Milchpackungen werden sogar mit einem Osterkrimi bedruckt.
Detektivspiele und ihre Tradition
Viele sagen, dass die Tradition der Detektivspiele auf das Jahr 1923 zurückgeht, als ein Buchverlag Ende März für seinen neuen Kriminalroman warb. Der Titel des Buches "Bergens Zug in der Nacht geplündert" schaffte es auf die Titelseite der norwegischen Zeitung Aftenposten. Die meisten Menschen verstanden nicht, dass es sich um eine Fiktion handelte, und glaubten, dass der Zug tatsächlich ausgeraubt worden war.
Sonntags "Tatort" schauen - das wäre wohl die Deutsche Antwort auf Påskekrim. Kein TV-Format ist in Deutschland, und anderen deutsprachigen Ländern und Regionen, so bekannt wie "Tatort". Jeden Sonntagabend kommen Familien, Pärchen und WG-Bewohner zusammen, um die deutsche Spießigkeit zu zelebrieren. Anderthalb Stunden kann man entspannt auf der Couch beobachten, wie sich ein Kriminalfall entfaltet und von den Ermittlern aufgearbeitet und anschließend gelöst wird. Oder man kann einen Bankraub in Echtzeit erleben. 
Detektivspiele für zuhause
Wer bekommt da nicht auch einmal Lust in die Rolle des Ermittlers als Detektiv zu schlüpfen und allen zu zeigen, wie gut man Hinweise kombinieren kann? Das lässt sich nun ganz leicht zuhause umsetzen - ganz ohne Polizeiausbildung! Alles was man braucht, sind die richtigen Spiele! Die sogenannten Detektivspiele lassen die Spieler zu Ermittlern werden, die den präsentierten Fall lösen müssen.
Dazu erhalten sie Akten, Hinweise und Indizien. An sich sind diese allerdings noch nicht aussagekräftig, sie müssen zuerst entschlüsselt, analysiert und eingeordnet werden, so dass schließlich der Täter identifiziert werden kann.
iDventure versorgt dich mit der richtigen Portion Krimi mit den Detective Spielen! Hierbei gibt es verschiedene Kriminalfälle die von dir und deinem Ermittlerteam gelöst werden müssen.
Die Tat muss aufgeklärt werden
Wenn du ganz neu dabei bist, ist Gattardo sicherlich genau das richtige für dich. Hier muss ein mysteriöser Mord aufgeklärt werden, der sich während eines Fluges in einem Flugzeug abspielte. Dieser Fall ist etwas weniger umfangreich, als die anderen Detective Stories, weshalb dieser nur etwa 60 Minuten beansprucht und Anfängern zeigt, worauf sie zu achten haben.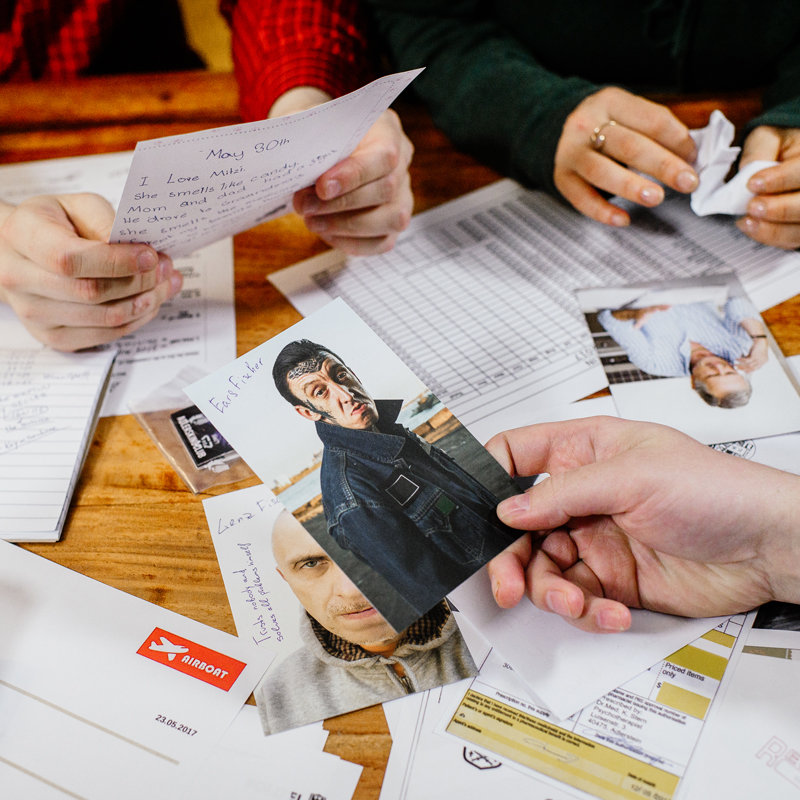 Detektivspiele für zuhause
Allen etwas erfahrenen Spielern kann man durchaus die Fälle 1 bis 3 ans Herz legen. In Fall 1 - Das Feuer in Adlerstein müsst ihr herausfinden, wie es zu dem verheerenden Feuer kam und wer dahinter steckt. In Fall 2 - Antarktis Fatale gab es einen Mord auf der Polarforschungsstation. Wie kam es dazu, was war das Motiv und wer ist der Mörder? Auch Fall 3 - Stillsee begeistert mit spannender Atmosphäre und einem kniffligen Fall!  
Ein russischer Fußball Star wird tot aufgefunden. Handelt es sich um eine Tat aus der Hooligan-Szene, oder steckt da vielleicht noch mehr hinter? Findet es heraus! Auch Historik-Fans werden hier fündig. Kaifeng 982 konfrontiert dein Ermittler-Team mit einem der ersten Kriminalfälle, die schriftlich festgehalten wurden.
Schafft ihr es die antiken Hinweise mit modernster Technik zu analysieren und findet íhr den Täter?
Falls eure Spielgruppe nach Abwechslung sucht, empfehlen wir auf das neue Live Mission Game: the Heist ein Auge zu werfen. Hier werdet ihr selbst Teil des Spiel indem ihr die Handlung aktiv beeinflusst. Schafft ihr es in The Heist den Bankraub durchzuziehen? Was macht ihr anschließend mit der Kohle - einstecken oder für einen guten Zweck nutzen?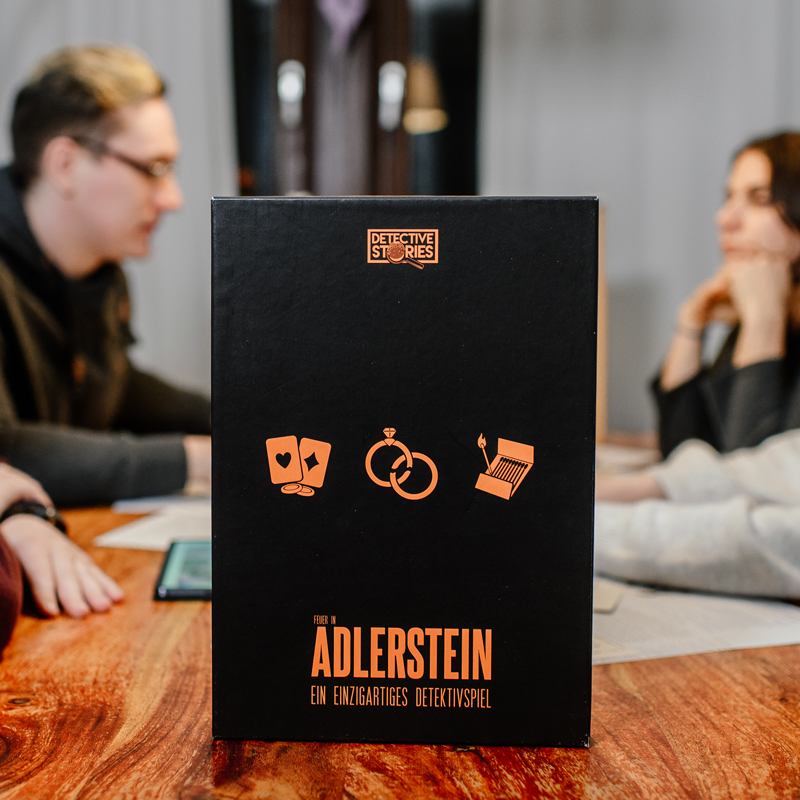 Detektivspiele: das Feuer in Adlerstein
Die realistischen Stories
Alle Detective Stories und Live Mission Games kommen ausgestattet mit anschaulichen und authentischen Materialien wie zum Beispiel Zeitungsartikeln und Medikamentenrezepten zu euch. Doch auch modernste Medien, wie zum Beispiel das Internet oder Podcasts müssen genutzt werden, damit man dem Täter auf die Schliche kommen kann.
So kann man die Spiele von iDventure schon fast besser als Event bezeichnen, als sie mit einem herkömmlichen Brettspiel zu vergleichen. Es gibt keine festen Regeln, der Ablauf ist frei bestimmbar und so ist für eine aufregende und interaktive Zeit mit dem Material und seinen Mitspielern gesorgt. 
Im Sinne der Nachhaltigkeit ist es wichtig zu erwähnen, dass die Spiele zwar nur einmal von einer Gruppe gespielt werden können, jedoch die Materialien alle erhalten bleiben - es wird also während des Spiels nichts zerstört. Daher bietet es sich an, das Spiel mit einer anderen Gruppe zu tauschen, oder weiter zu verschenken, um anderen eine Freude zu bereiten.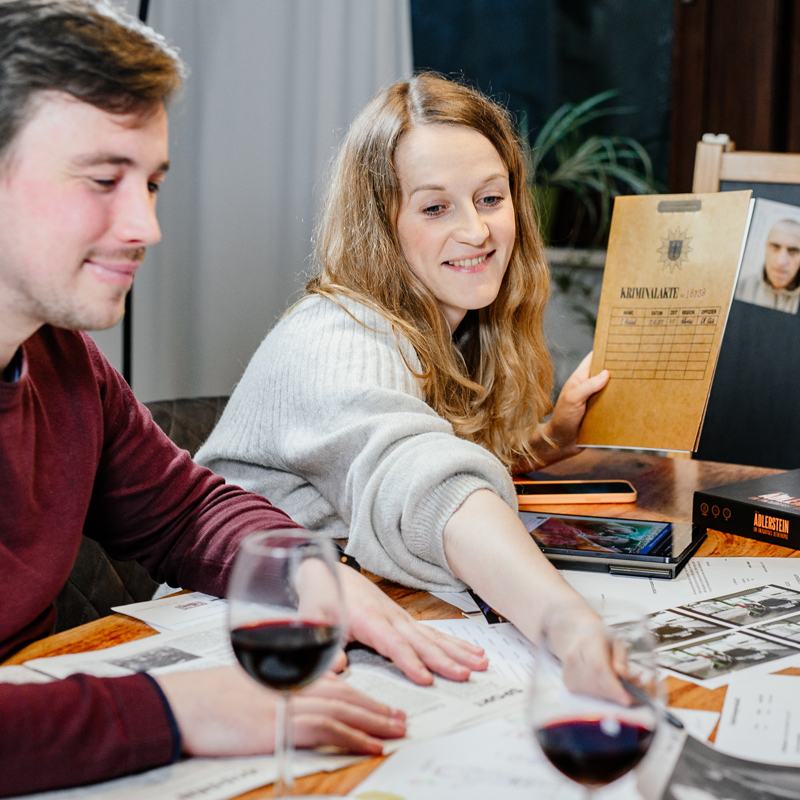 Die realistischen Detektivspiele